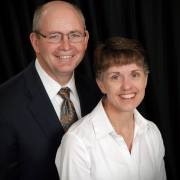 Dr. Gary O'Neal
Senior Pastor
Dr. Gary E. O'Neal previously served as the pastor of Greenwood Baptist Church for 14 years before coming to Oak Park in May 2014. He and his wife, Lynn, have been married for almost 30 years. They have four adult children and two grandchildren.
As a child, Gary attended Paramount Baptist Church in Perkinston, Mississippi. When he was eleven years old, he knew God was dealing with him about accepting Christ as his Savior. His pastor, Bro. George Reddin, stopped him one day as he was leaving church and asked him if he had ever been saved. When he responded that he hadn't, Bro. Reddin took him to a Sunday School room and explained salvation to him. Gary opened his heart to Christ and accepted His work on the cross as the only payment for his sins and his only hope for Heaven.
When Gary was twenty years old, he was living in Valdosta, Georgia and attending Faith Baptist Church. For several years he had been running from God but God, by His grace, would not let Gary continue his own way. On July 18, 1982, Gary finally surrendered and told God that he would be willing to serve Him. His pastor counseled Gary to go to Trinity Baptist College in Jacksonville, Florida, and it was while attending Trinity that he sensed God calling him to preach.
In 1986, Gary received a BA in Church Ministries from Trinity Baptist College. He received a MDiv from the BMA Theological Seminary in Jacksonville, Texas in 2000 and a PhD from Mid-America Baptist Theological Seminary, Memphis, in 2013.
Gary has served in a number of different positions in ministry. During Bible college, he and Lynn attended a large church where they had the opportunity to serve in the bus
Texas. After graduating from seminary, the O'Neals moved to Fulton where Gary pastored Greenwood for 14 years.
In addition to his pastoral ministry, Gary has had the opportunity to serve as a writer for DiscipleGuide Church Resources. He also has taught online classes for the BMA seminary as well as Southeastern Baptist College.
The O'Neals enjoy outdoor activities. Lynn ran in the Boston marathon in 2014. While Gary endures running, he would much rather be on his bicycle.
Jim Turner
Worship Pastor
Jim Tuner has been on staff since 1991. He has previously served as Youth & Music Director in Magnolia, Arkansas.
Jim currently serves as Worship Pastor and is responsible for leading our adult choir as well as organizing and coordinating all worship services.
Jim is married to Laura and they have one daughter, Ashley.