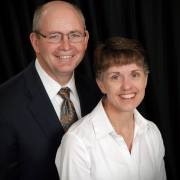 Dr. Gary O'Neal
Senior Pastor
Dr. Gary E. O'Neal previously served as the pastor of Greenwood Baptist Church for 14 years before coming to Oak Park in May 2014. He and his wife, Lynn, have been married for almost 30 years. They have four adult children and two grandchildren.
As a child, Gary attended Paramount Baptist Church in Perkinston, Mississippi. When he was eleven years old, he knew God was dealing with him about accepting Christ as his Savior. His pastor, Bro. George Reddin, stopped him one day as he was leaving church and asked him if he had ever been saved. When he responded that he hadn't, Bro. Reddin took him to a Sunday School room and explained salvation to him. Gary opened his heart to Christ and accepted His work on the cross as the only payment for his sins and his only hope for Heaven.
When Gary was twenty years old, he was living in Valdosta, Georgia and attending Faith Baptist Church. For several years he had been running from God but God, by His grace, would not let Gary continue his own way. On July 18, 1982, Gary finally surrendered and told God that he would be willing to serve Him. His pastor counseled Gary to go to Trinity Baptist College in Jacksonville, Florida, and it was while attending Trinity that he sensed God calling him to preach.
In 1986, Gary received a BA in Church Ministries from Trinity Baptist College. He received a MDiv from the BMA Theological Seminary in Jacksonville, Texas in 2000 and a PhD from Mid-America Baptist Theological Seminary, Memphis, in 2013.
Gary has served in a number of different positions in ministry. During Bible college, he and Lynn attended a large church where they had the opportunity to serve in the bus
Texas. After graduating from seminary, the O'Neals moved to Fulton where Gary pastored Greenwood for 14 years.
In addition to his pastoral ministry, Gary has had the opportunity to serve as a writer for DiscipleGuide Church Resources. He also has taught online classes for the BMA seminary as well as Southeastern Baptist College.
The O'Neals enjoy outdoor activities. Lynn ran in the Boston marathon in 2014. While Gary endures running, he would much rather be on his bicycle.
Jim Turner
Worship Pastor
Jim has served at Oak Park since September 1991, and has served in ministry for the past 28 years as the worship pastor. In the early years, he served as both youth and music director. He is married to Laura and they will celebrate their 30th anniversary in June 2020. They have one daughter, Ashley, who is in college.
Jim graduated with a Masters in Music Performance in Composition from Arkansas State University. He also teaches at Central Baptist College in Conway, AR. The most important moment in Jim's life was his salvation when he was 19 years old. Jim says that God makes all things new and that the Lord changed his life from that moment on.
Zac Lee is from Southaven, MS, where he was born and raised. He was saved at Calvary Baptist Church in Horn Lake, MS, on Easter, when he was eight years old. His junior year in high school, he surrendered to youth ministry at Stone Ridge Baptist Camp in Smithville, AR.
Zac became the youth pastor at Oak Park in February 2019. He graduated from Central Baptist College with a Bachelor's Degree in Bible and a minor in youth ministry. He is married to Katherine, who works alongside him in youth ministry.